Qubi2 can be configured as part of a total ResourceXpress solution for meeting rooms, desks and flexible workspaces.
It can be used in conjunction with room booking screens or on its own in hot desking or activity based working environments. It provides a clear indication of resource status with LED lights and allows users to book on the fly using the built-in RFID multi card reader.
Users can also pre-book using their familiar desktop calendaring and scheduling application, via strategically placed kiosks on the office floor or via their mobile device. Having Qubi2 optimise your resource usage, frees up unused floor space, improves productivity and helps reduce real estate costs.
Qubi2 is very simple to use but has sophisticated features built in, taking resource booking technology into a new era.
If you're unsure what system will meet your room or resource booking needs, then submit an enquiry or request a demo. We'll be pleased to show you how Qubi2 with ResourceXpress can have a very positive effect on your office resource productivity.
More information can be downloaded from the section below (requires registration).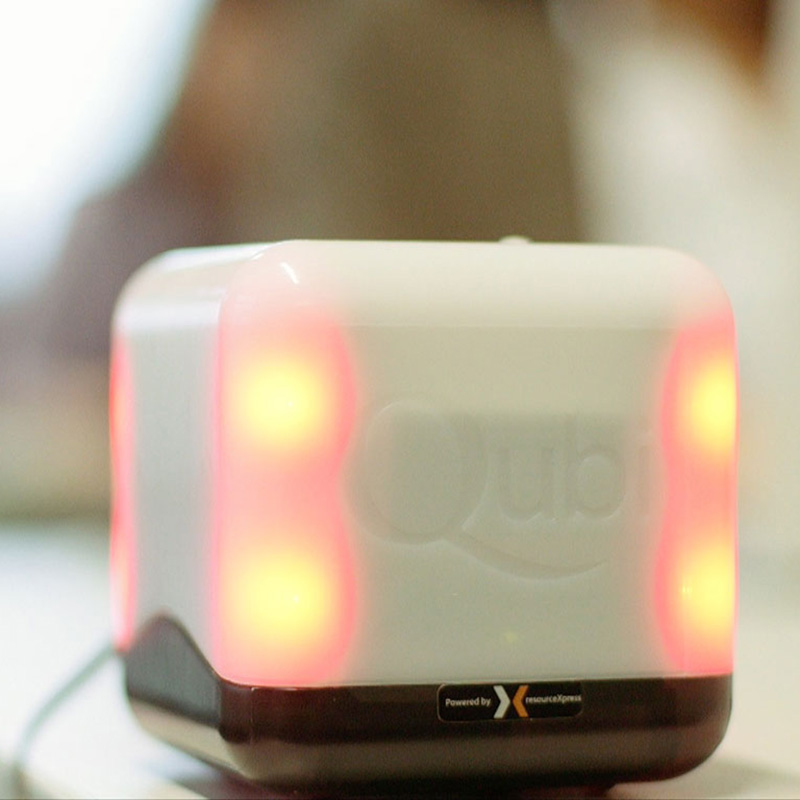 How Qubi Works
Qubi glows green when a resource is available.
Red means a resource is already in use.
Amber means the resource has been booked, but the user has yet to check-in.
Qubi allows for on-the-spot check-in: users can simply tap in with an RFID card. When a booking or a meeting comes to an end, Qubi unobtrusively pulses red, gently notifying users and allowing them to extend, if possible.
This is particularly useful in meeting rooms where an external room-screen status cannot be seen.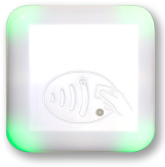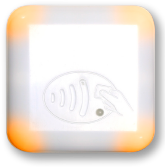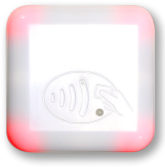 Clear 360° visibility
360˚ visibility of workspacestatus with simple Red and Green LEDs and no complex touch screen operation to learn

Interactive modes
Allow the use of RFID cards for validated check-in, instant bookings, autoextending reservations and for manual or automatic check-out

Do not disturb
Do not disturb mode promotes privacy in open plan offices

Auto cancellation
If no check-in within a defined period a 'no-show' auto-cancellation process automatically frees up workspace for others to use
Reservation ending indicator
Reservation ending indication helps to ensure meetings finish on time – no more overrunning meetings and wasted time for the next occupants!

Two available models
Available in POE (Power over Ethernet) or Wireless AIR models
| | Requirements |
| --- | --- |
| | Requires a ResourceXpress server with a connection to a supported booking system e.g. Microsoft Outlook/Exchange, IBM (Lotus) Notes, Google Calendar or a supported advanced booking system. Qubi2 AIR requires a Qubi2 Gateway. |
| | Details |
| --- | --- |
| | Qubi2 connects via a ResourceXpress server to a wide range of booking systems including Outlook Exchange, IBM Lotus Notes, Google Calendars and a range of other supported booking systems |
| | Optional interactive modes for Check-in, Checkout, Extend and Instant Book – all simply carried out using RFID cards or tags |
| | Multi-standard card reader compatible with a wide range of RFID cards including Mifare, Legic, EM4102, Desfire and NFC |
| | Optional unique auto check-out mode using RFID card – no external wiring for sensors or unreliable movement detectors required! |
| | Low cost alternative to traditional meeting room touch screens for glass walled rooms and pods or as an enhancement to existing room screen systems to provide simple card driven interactive access plus the end of reservation reminders |
| | Low power architecture delivers lower running cost than room and desk touch screen based solutions |
| | Overnight scheduled power save mode minimises running costs even further |
| | Available in POE (Power over Ethernet) or AIR (Currently only available in Europe) models |
| | Available in Lite (non interactive) models |