Managed cloud services from ResourceXpress allows you to focus on your core business, freeing up valuable internal resources and reducing overheads. RX SaaS moves the responsibility of hosting, managing and maintaining your workspace management systems to outsourced ResourceXpress services for one predictable annual cost.
We will keep your system up to date with continuous developments and provide all the remote support you need. Active monitoring and reporting for Enterprise customers ensures you're kept informed exactly how your system is performing.
Take advantage of our 30 years' experience of delivering excellent client service for global clients to define a scalable SaaS workspace booking system that will meet your exact requirements. With ResourceXpress the choice is yours. Our mature on-premise application has been honed over many years' development, often introducing features requested directly by our customers. We've put all this knowledge and experience into developing and delivering our RX SaaS product. This has been designed from the ground up as a pure SaaS application with all the previous on-premise application functionality.
There is now a common look and feel across ResourceXpress on-premise and RX SaaS products. Whether you choose to host ResourceXpress on-premise in your own environment, on a virtual server or by using ResourceXpress cloud services with RX SaaS, the administration and user experience is the same.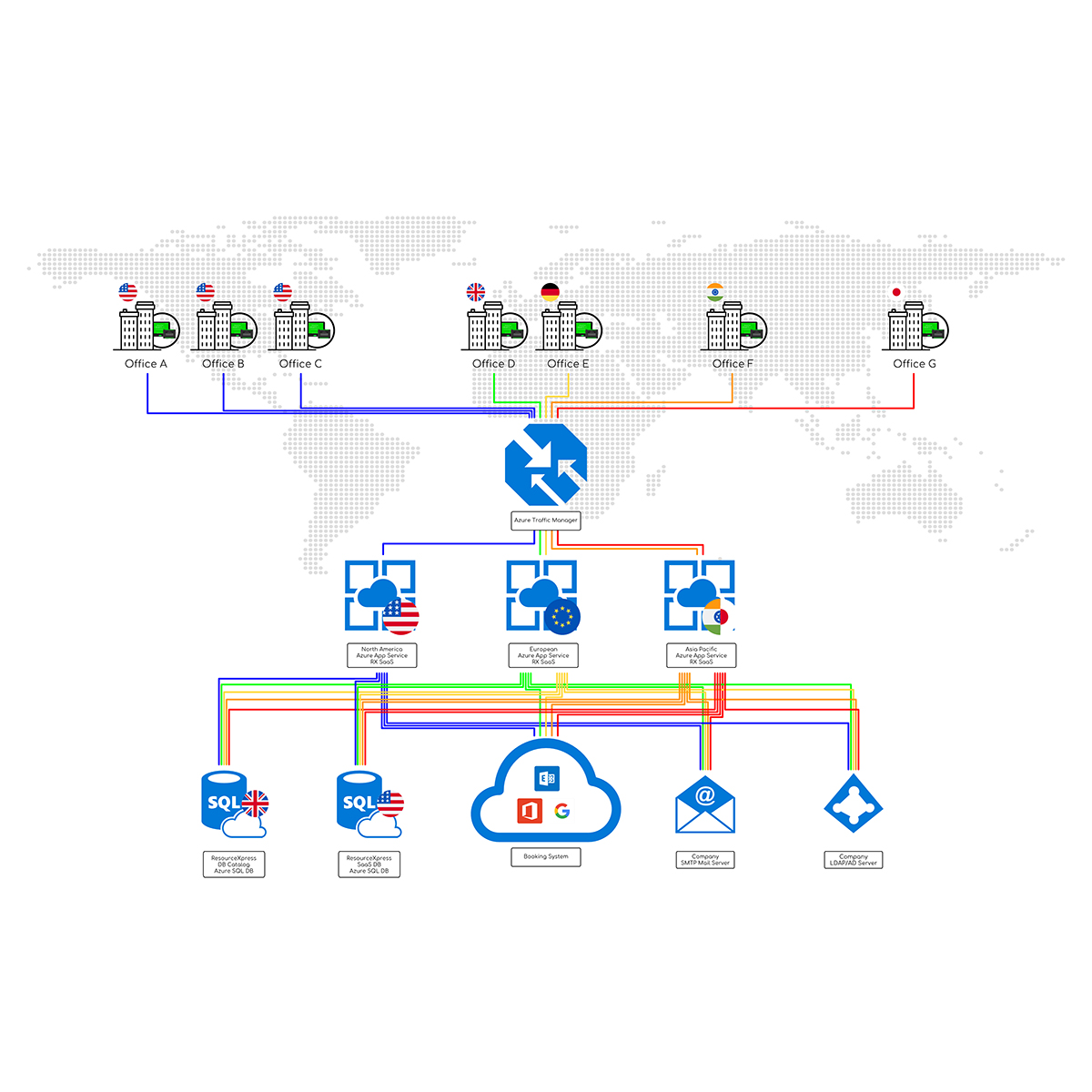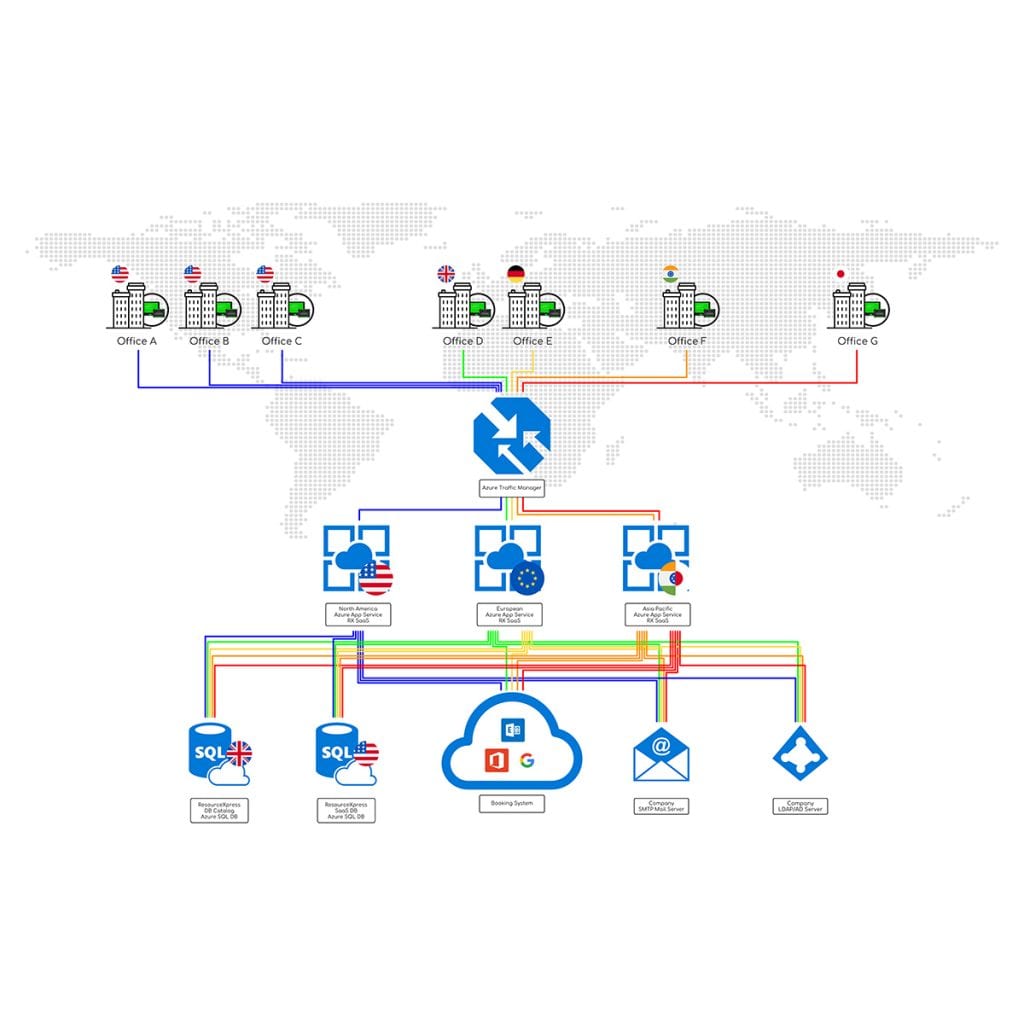 Reduce Costs – Free up Internal Resources – Increase Productivity

Stay up to date – Get latest versions with planned maintenance upgrades

Save time and money – We will deploy all updates, patches.

Increase User Adoption – get access to all RX SaaS latest tools such as mobile kiosk, Maps and mobile apps

Easy start up – With multi-tenant services
Performance scaling – ResourceXpress will monitor and optimize your system to meet your demands.

Grow – Easily migrate and upscale your systems to meet demands and global growth

Save – With multi-tenant services

Increase reliability – Dedicated SaaS services provide multi server traffic management and resilience by regional specific or global systems.

ISO 27001 Information Management Security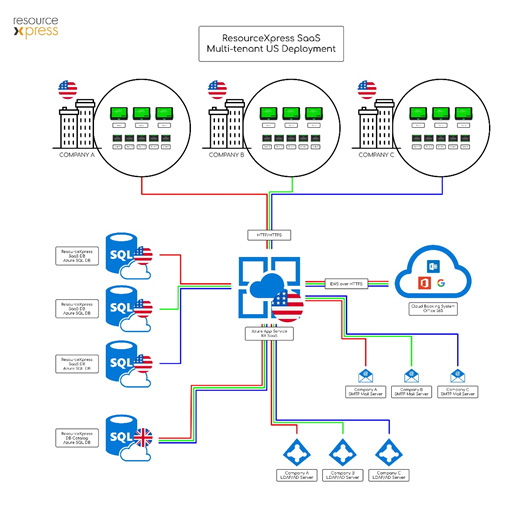 Choose Your Server Type
ResourceXpress can be delivered on two primary levels to support differing client requirements:
Corporate Service (Standard multi-tenant, single server) – This is a simple and quick deployment for RX SaaS designed for unlimited number of resources and users but without the customization, flexibility and enhanced security of the Enterprise service. The Corporate RX SaaS application server is a shared resource making it a cost effective, entry level service but with the security of an independent database per client. This service is Ideal for a single site start up. It requires a one-time (discounted) set up charge, a software licence subscription per workspace/room-screen. RX SaaS Corporate Service includes all server hosting costs, software updates and remote support.
Enterprise (Dedicated multi server) – RX SaaS Enterprise benefits from a dedicated client application server and dedicated database per client. It provides multi server resilience and load balancing for global scalability. Extra security with ISO27001 information management security standard monitoring and auditing processes with a guaranteed scheduled uptime SLA greater than 99.95%.
Planned upgrades can be scheduled to suit customers' requirements and room screen buttons/email templates can also be customized. Regular monthly performance reporting keeps you assured that the service is continually optimized.
RX SaaS Enterprise is suitable for larger resource deployments and clients with multiple sites across multiple time zones.
There is a fixed price for the standard Enterprise service with flexible scalability based on the number of workspaces and remote users. As the number of workspaces and service users increase, we increase the specification of the service to cope with demand.
RX SaaS has been compiled using all our knowledge & experience acquired in developing the mature ResourceXpress on premise product but designed from the bottom up as a true SaaS application.
Choose Your Service Level
| Feature | RX SaaS Corporate | RX SaaS Enterprise |
| --- | --- | --- |
| Scheduled Uptime SLA | 99.5% | 99.95% * |
| Upgrade Date flexibility | No | Yes |
| IP Address Filtering | No | Yes |
| Enhanced Customization | No | Yes |
| Load Balancing/Auto Failover | No | Yes |
| Private Database | Yes | Yes |
| Geographic Resilience | No | Yes |
| Custom Email Templates | No | Yes |
| Custom Hot Fix Deployment | No | Yes |
| Optional Monthly Performance Reporting | No | Yes |
| ISO 27001 Information Management Security | No | Yes |
* maximum permissible downtime less than a cumulative total of 21 mins over a full month – 24/7