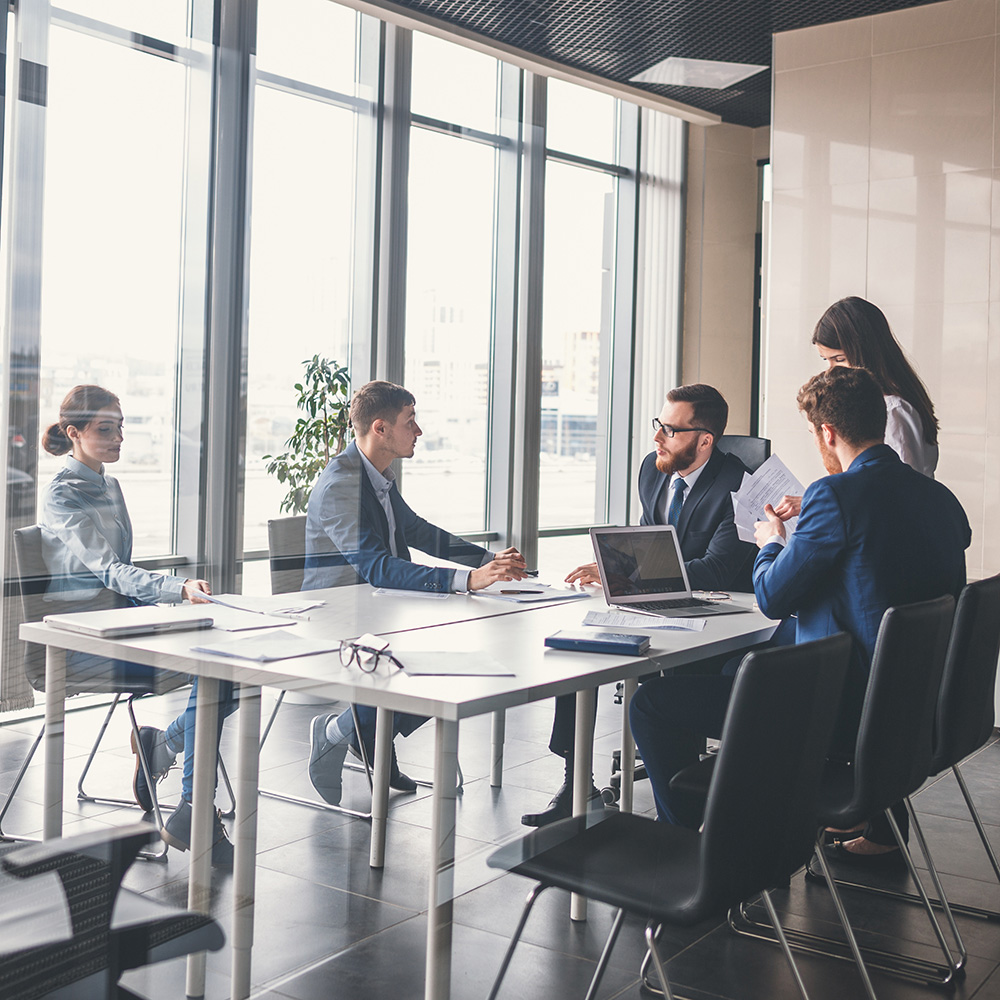 MEETING ROOM BOOKING SYSTEMS
Our Meeting Room Booking Systems deliver a simple solution for the management of meeting rooms, desks and huddle-spaces.
On-premise or SaaS based, ResourceXpress gives you the power to reduce overheads and improve workspace productivity in a scalable meeting room booking system.
Reserve meeting rooms and workspaces in different offices across different time zones, whether you're in or out the office using a range of mobile, web-based apps or using your familiar booking system.
Integrate with all leading booking systems* plus an ever-expanding list of third-party advanced booking systems for clients who require more features.
Meeting Room Booking System – Software Application Features
Central based server – With thin clients for central control, device management efficiency and ease of global deployment.

Device monitoring – Get instant status alerts if a meeting room screen goes off-line.

ResourceXpress Versions – For on premise or virtual server, SaaS multi-tenant or SaaS dedicated server for complete scalability.

Multi standard RFID authentication – ResourceXpress manages multiple RFID technologies and allows code manipulation from the server console.

Single Sign On (SSO) –  ResourceXpress uses SAML (Security Assertion Markup Language), allowing easier and more flexible user access and authentication. Integrate with PingOne or Google SSO.

Connections – Microsoft Exchange, Office 365, Google G-Suite, IBM Notes (On-premise version only) + leading advanced booking systems for more sophisticated features. Catering, visitor management, video conference booking, advanced reporting, facility management, right up to an Integrated Workplace Management System (IWMS) can all seamlessly benefit from ResourceXpress connectivity right from the point of use.

Flexible Kiosk Search & Book – Search and book from fixed kiosks located on the office floor or from your mobile device.

Maps – View a map of the office floor. Find free resources and colleagues instantly and book on the fly.

Equipment Fault Reporting – instantly see if a resource has faulty equipment from the meeting room screen or Kiosk App. Report faults as the occurring and route to FM team for speedy fixes of faulty equipment.

Reporting Charts – Simple graphical reporting from the RX admin console, delivering quick, filtered resource performance data at your fingertips.

Maps Future Booking – When viewing Maps in the Kiosk users can click on the date to view a calendar and book resources for future days.

RX Hybrid Model – Local mode for resource profiles allowing a mix of resource booking capability between ResourceXpress and the booking system of your choice. Great when managing large numbers of resources and where migrating booking systems.

Push Service for MS Exchange – Independent Windows Service used to update/sync booking with Exchange/Office 365 calendars for real time updates.

Local Booking Manager – Administrators can create and delete bookings from the central server based booking manager.

Local User Manager and Roles – centrally create groups of resources with specific settings and deploy globally. Create roles for groups of users with specific responsibilities.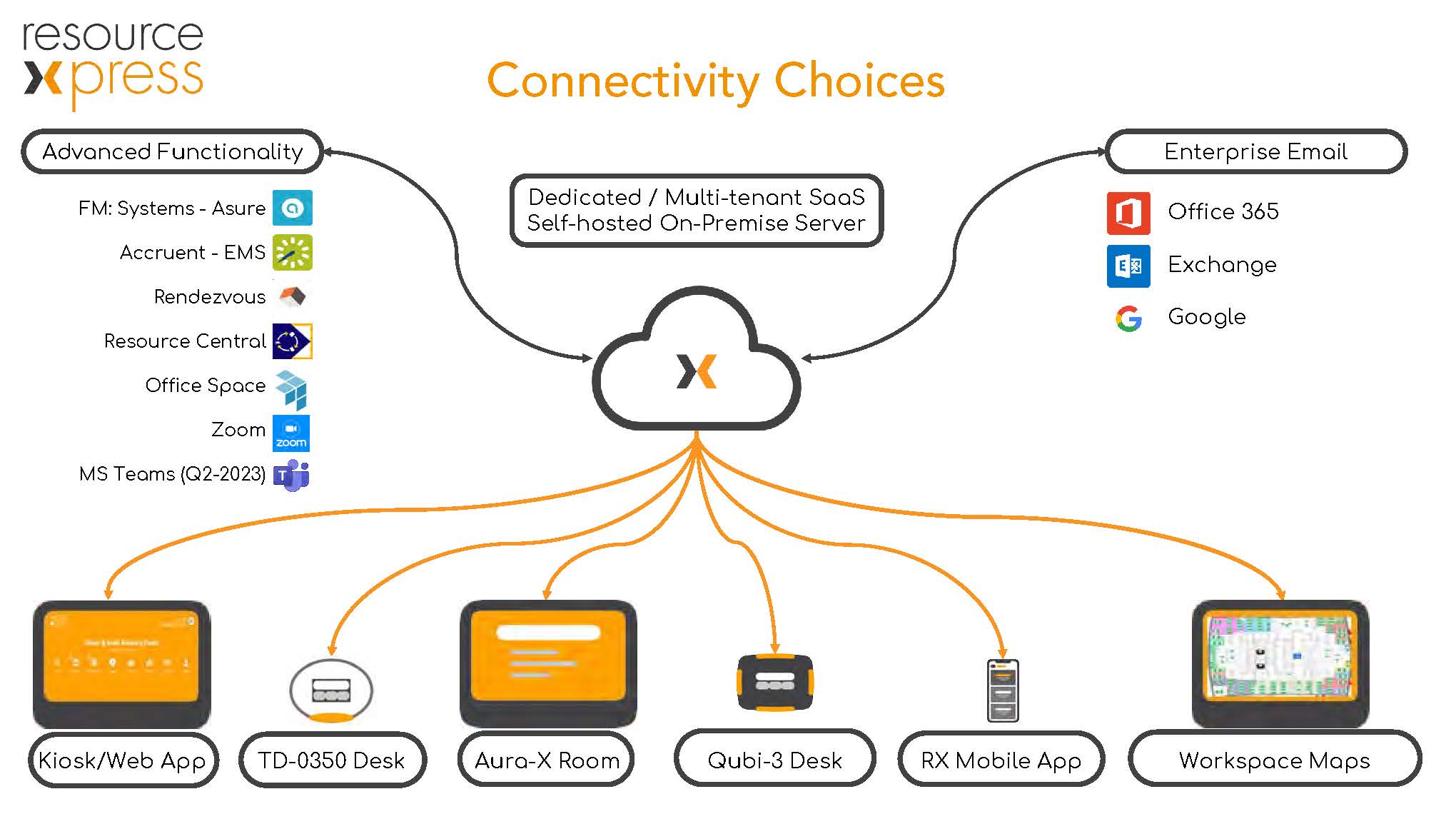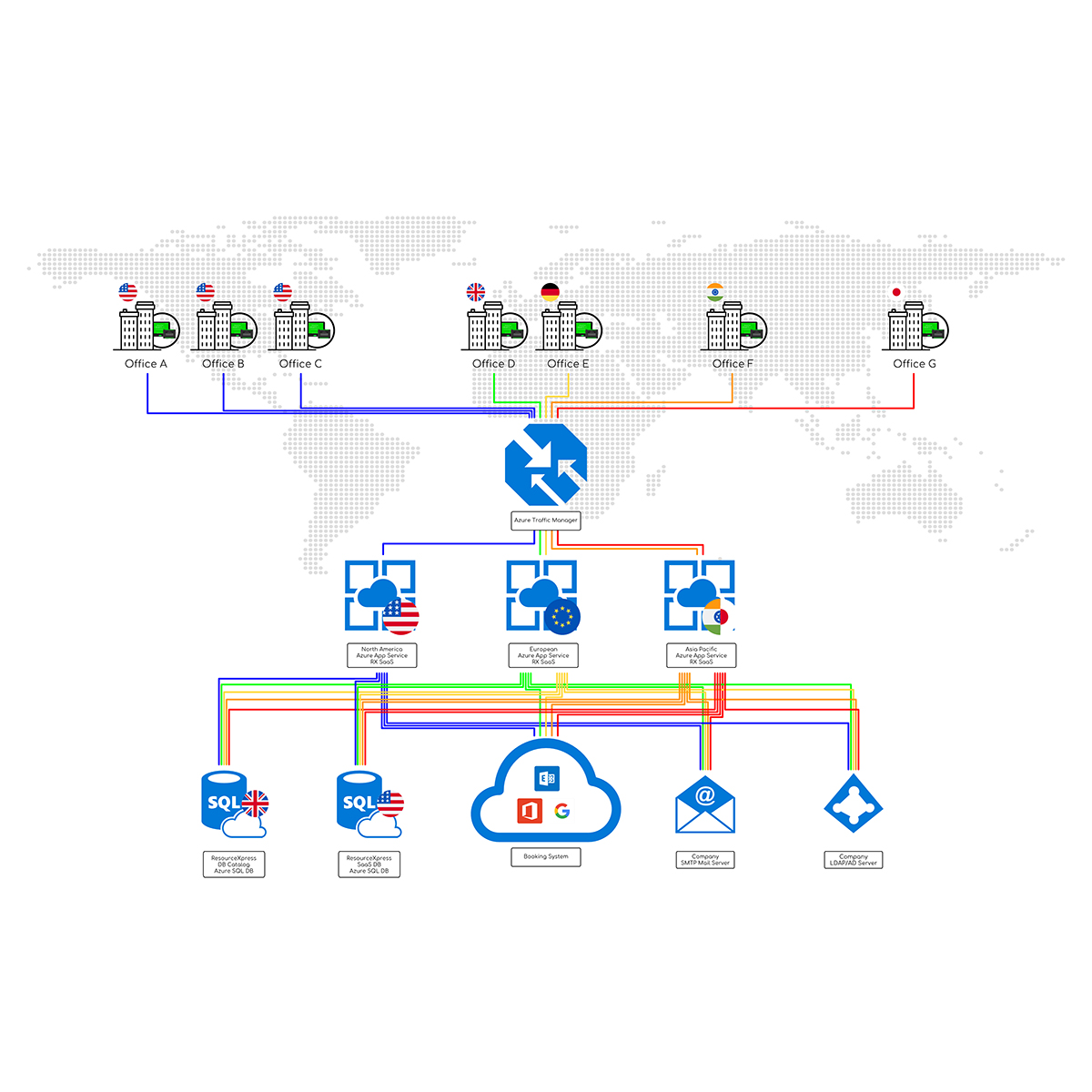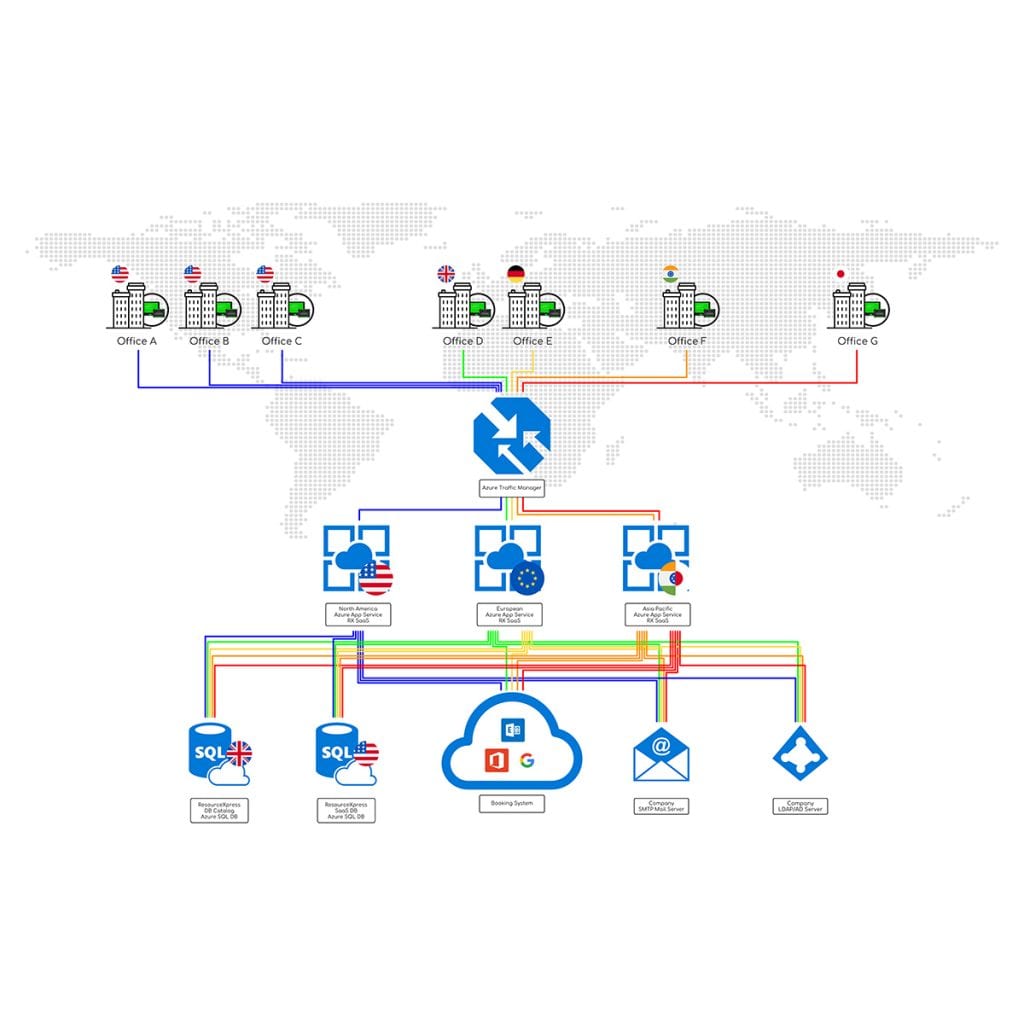 SaaS Service Features
Uptime guarantee of 99.9 per cent

RX SaaS application designed in an ISO9001:2015 Quality Management System environment

Software design adherence to information security enforcement procedures and practices modelled on the ISO 27001:2013. Process auditing for certification under the ISO 27001:2013 Information Security Management Standard underway

Vulnerability Assessment Testing carried out by leading global software QA and testing organization accredited to ISO9001:2015 QMS and ISO27001:2013 ISMS. RX SaaS current security for the application was assessed as "Above-Average"

Auto monitoring of system resources highlights potential problems before they occur

Advanced backup technology for point-in-time recovery; minimizing data loss in the event of an outage

Regional and global failover capabilities