Introducing the simplest way to find & book meeting rooms, workspaces and other resources. Search for colleagues or rooms with specific resources and easily browse your previously booked reservations with Qkiosk for ResourceXpress
Qkiosk is a standard module provided by the ResourceXpress server. It can be displayed on our own kiosk hardware (as shown above), via a mobile device or any suitable touch screen PC or tablet*. Reserve meeting rooms, desks and other resources using the free rooms/desks feature or view your personal reservations for the day using a secure login. Using maps from within the Qkiosk application is a great way to find and book meeting rooms, hot desks or car parking spaces, giving users instant booking, check-in, check-out and extend functions. If you want to find a colleague in the office, simply use the powerful search tool, find out where they are sitting or what meeting room they are in and the map will guide to their exact location.
As with all ResourceXpress devices, free standing kiosks can choose from a wide range of RFID card standards aligned with our meeting room screens and desk booking hardware. This means you can use the same RFID cards or fobs throughout the building to identify and authenticate bookings. Whether you choose to place floor standing kiosk hardware at strategic locations throughout the office or simply use RX Mobile App, you'll definitely see the benefits in resource utilization. It makes finding and booking resources even easier, promoting productivity and allowing people to focus on core activities, not worrying about finding the best workspace.
*Note: RX SaaS remote users require a remote access user licence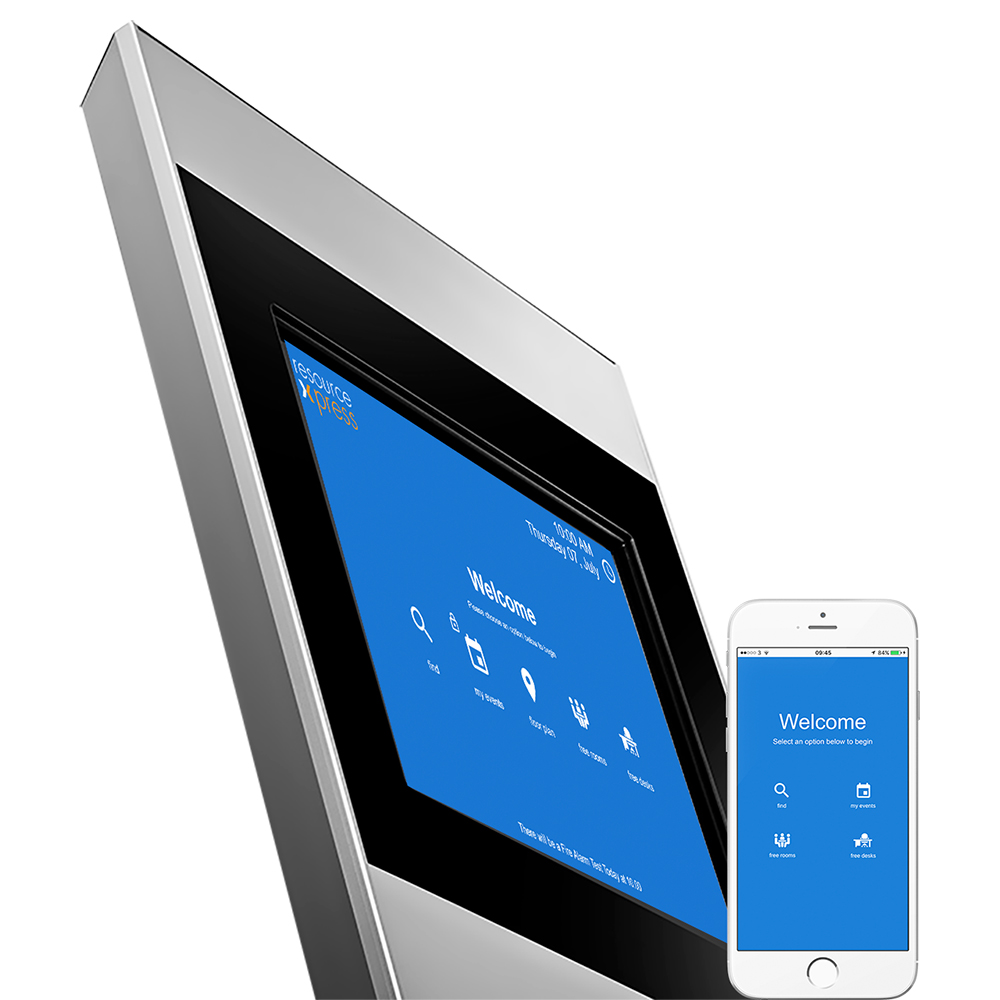 | | Requirements |
| --- | --- |
| | ResourceXpress server with one or more room configured room or desk resource profiles |
| | Any Windows 7 or 8 based touchscreen PC, iPad or Android touchscreen |
| | Suitably sized jpeg images for floor plans or creation of Maps |
| | Details |
| --- | --- |
| | Each room or workspace icon displays the current status i.e. red is busy and green is free. |
| | Next or current room booking details shown on icon as scrolling text. |
| | Icons can be enabled for interactive access to full resource booking screens (e.g. room screen). |
| | Easy to use and quick to maintain floor plan builder requires a jpg image for each floor plan zone. |
| | Floor plans can be linked sequentially or via hot spots on multi-level navigation plans. |
| | Powerful search feature to locate rooms by name, bookings by title, bookings by organiser and desks by ID. |
| | Floor plan maps can have additional hot spots for links to other information such as health and safety information, emergency escape routes and fire extinguisher location. |
| | Supports standard ResourceXpress authentication model using PIN codes, user name and passwords or internal (Multi Standard) RFID reader. |