Return to work safely with RX-Mobile from QED Advanced Systems Limited and Resourcexpress Inc.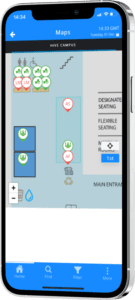 RX Mobile is the fantastic new addition to the ResourceXpress suite. Available from the Apple App Store for iOS or Google Play Store for Android. RX Mobile is the essential tool for quickly searching and booking meeting rooms, desks and workspaces on the fly.
Building on the popular ResourceXpress mobile web app, we've completely re-designed and re-engineered the app for the modern agile workplace. Importantly, RX Mobile incorporates all the latest ResourceXpress features aimed at combatting Covid-19 and assisting a safe return to work for office workers.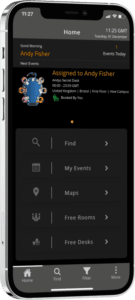 Benefits:
Distance friendly alternative to point of use operations – Contactless search and book for resources using your own device, minimizing contact with office-based touch control devices and reducing cross infection risks
Find Resources – Powerful filtering and search facility
My Events – Quickly view your daily bookings, view resource locations and get directions using office floor maps.
Maps – View office floor images
Free Rooms – Quickly see what meeting rooms are free
Free Desks – Quickly see what desks are free
Equipment – See what equipment is available with your desired room or desk and report any faulty items
Themes – Choose dark or light modes
For more information and to download a datasheet click on this link.
Related Content:
For more information about how ResourceXpress can help organizations return to work safely with RX-Mobile and reduce risks of cross infection to combat Covid-19, read our article on getting back to work.
More information about Covid-19 is available from: The World Health Organization 
If you would like to find out more about RX SaaS, why not fill out our quick enquiry form or jump to our RX SaaS information page on our web site. Keep looking out for more developments from ResouceXpress by signing up to our newsletter.